Phuk Your Idea of a Mixtape is a full-length digital mixtape album by joe DOE. It contains all of his mixtape tracks released on sykophunk.com, plus previously unheard remixes of songs from Democalypse. This release was made available online for free download.
Track listing
Edit
Get It Right
Still Ain't No Commercial Rap
Point of No Return
We Be Getting It (ft. Black-Jack)
Sick Shit
Secret Agent of Phunk
The New Breed
We Go Insane (ft. Black-Jack)
Get Embarrassed
Fuck the Industry
Suicide or Homicide
Flaws/Fuck It
World Keeps Turning
Hellfire and Brimstone
I Cannot Fit In
Back to Basics
The Hammer Drops
Titled (Screw a Rockstar Remix)
Sick Shit (Raw Remix)
Battle Scars (Revisited Remix ft. Christel South)
Shitting in the Lap of Luxury (Unplugged ft. TSF)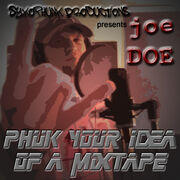 External Links
Edit
[1] This release on Bandcamp
Ad blocker interference detected!
Wikia is a free-to-use site that makes money from advertising. We have a modified experience for viewers using ad blockers

Wikia is not accessible if you've made further modifications. Remove the custom ad blocker rule(s) and the page will load as expected.