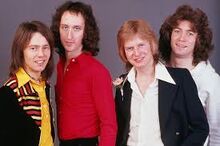 Pilot is a Scottish band, those middle has had a number of 1970s hits. The musicians of the band were later known as escorts in The Alan Parsons Project. Pilot and sounds of the first letters of the surnames of the original three members (Paton, Lyall, Tosh).
William Lyall David Paton and know each other from 1970, when they both were involved with the Bay City Rollers. Before that band was seriously, were the gentlemen again left. The two men meet each other again In 1971 in Edinburgh, in the local library and start again to record demos (Craighall Demos). Add first Later Stuart Tosh and Ian Bairnson later joined the two and established in 1973 is Pilot. Already on the demos can be heard where the music is going. Soft pop, who occasionally great resemblance to the later music of Alan Parsons.
In Netherlands they are known primarily from two modest hits:
Magic from 1974, that ends up in the charts here, but huge successes in the United Kingdom and the United Statesknows, respectively Nos 11 and 5 in the local lists;
January, from 1975, also here in the charts, but no. 1 in England.
Then still hits abroad, but that no longer reach Netherlands.
After having made three albums together get Tosh to 10cc and Lyall Paton begins for himself, in particular is evil about the departure of Lyall. After two's a Crowd disappears completely from the stage and Pilot goes on at The The Alan Parsons Project.
William Lyall makes one solo album; Paton also comes with solo albums; Ian Bairnson has for many years been working on a solo album.
The band remains immensely popular in Japan, even though they no longer exist. Check out a new album In 2002 comes in Blue Yonder; that contains re-recorded old compositions; It is only released in Japan. In 2006 then follows the release of two's a Crowd on cd; again in Japan.
Lyall died in 1989 of Aids. Paton and Bairson play as studio musicians on all kinds of albums, such as e.g. by Kate Bush.
Magic/Just le me be
January/Never give up
Call me round/Do me good
Just a smile/Don't Bacon loudly
Just a smile/Are you in love?
Lady Luck/Dear artist
Running water/First after me
Canada/The mover
Penny in my pocket/Steps
Some of their songs in movies:
Ad blocker interference detected!
Wikia is a free-to-use site that makes money from advertising. We have a modified experience for viewers using ad blockers

Wikia is not accessible if you've made further modifications. Remove the custom ad blocker rule(s) and the page will load as expected.