Pipes Of Peace
Studio album by Paul McCartney
Released
31 October 1983
Recorded
October-December 1980, February-March 1981, Summer 1981, September-October 1982, February-July 1983
Genre
Rock, pop rock
Length
38:58
Language
English
Label
Parlophone
Producer
George Martin
Paul McCartney chronology
Pipes of Peace is the fifth solo studio album by
Paul McCartney
, released in 1983. As the follow-up to the popular
Tug Of War
,
Pipes of Peace
was nearly as successful and the source of more big hits for McCartney although critics were much cooler on the album than they were on its predecessor.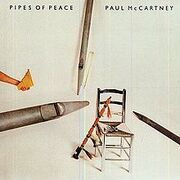 Track listing
Edit
Side One
Pipes Of Peace
Say Say Say (Duet with Michael Jackson)
The Other Me
Keep Under Cover
So Bad
Side Two
The Man (Duet with Michael Jackson)
Sweetest Little Show
Average Person
Hey Hey
Tug Of Peace
Through Our ove
1993 bonus tracks
Twice In A Lifetime
We All Stand Together
Simple As That
Ad blocker interference detected!
Wikia is a free-to-use site that makes money from advertising. We have a modified experience for viewers using ad blockers

Wikia is not accessible if you've made further modifications. Remove the custom ad blocker rule(s) and the page will load as expected.