Artist: Toggi
Date Released: september 25, 2006
Label: Sena
Tracklisting:
Reykjavik mag, october 2006
This spring no one knew a thing about Toggi and still no one does except that he had that song, Heart in Line, played over and over on the radio this summer. To my knowledge, Toggi has almost never played live and for the last year and a half he has been working on this album, Puppy. Toggi is one of these guys with a guitar, a nice voice and the talent to write good pop songs. When you put a band behind him he starts sounding interesting. Puppy is a good pop album that will probably be one of this year's biggest christmas presents. Sometimes Toggi's singing reminds me of Coldplay's Chris Martin without saying that Toggi's music is anything like that. But the atmosphere is similar. The tunes are easygoing and sometimes cheerful although the lyrics are often a bit sadder.
Overall Puppy is a great debut album and I'm looking forward to getting the chance to see him play live for the first time because he will be at this year's Airwaves festival.

Ágúst Bogason - Reykjavik mag, october 2006
Further reading
Edit
The lyrics and music on Puppy were written by Toggi between the years 2000 and 2005 and recorded by Toggi & Bjarki at various locations in Reykjavik from 2003 until the end of march 2006. It has received good reviews in the Icelandic media and ranked among Iceland's top albums for 2006 on quite a few critics' lists. Four singles were released from the album and all of them got a lot of airplay on almost every Icelandic radio station.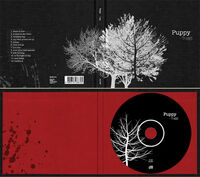 Ad blocker interference detected!
Wikia is a free-to-use site that makes money from advertising. We have a modified experience for viewers using ad blockers

Wikia is not accessible if you've made further modifications. Remove the custom ad blocker rule(s) and the page will load as expected.