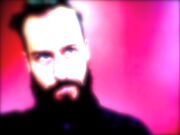 Rev. Billy Simmons, also known as William Simmons, is a Chicago-based guitarist and multi-intrumentalist.
Biography
Edit
Rev. Billy Simmons was born William P.C. Simmons in Wichita, Kansas, on April 17, 1969. He attended Wichita State University, where studied music performance for guitar, but left before graduating to record with RCA recording artist Ké. Simmons did session work on guitar for songs on Ké's albums "I Am" (1995) and "Shiny" (1998).

After the last recording sessions and an amicable parting with Ké, Simmons moved to Chicago originally on a tip from one of the Artist Rep's from RCA to audition with Chicago band AMX, a side project by members of the band Material Issue. Unfortunately, due to the untimely death of Jim Ellison, the front man for Material Issue, the audition never happened.

However, Mike Zelenko (drummer for Material Issue) was also playing with Specula, fronted by Specter Spec, and suggested Simmons audition. Simmons replaced original guitarist Sigh Moan and contributed to a follow-up to the band's debut album Erupt, which was never released but saw a few singles make it to national and worldwide compilation albums.

In the early 2000's (Rev.) Billy continued to do session work for some local Chicago bands, including Morphine Angel,and even has probably one of the shortest contributions to a song for Nash Kato's solo effort (a 16-second pick slide).

In 2009, Simmons self-released "Rollscanhardly," an album of original songs.
Discography
Edit
Rollscanhardly, 2009 (self-released)
' Album Performances Edit
Shiny, Ké (1998)
I Am, Ké (1995)
Further Reading
Edit
Ad blocker interference detected!
Wikia is a free-to-use site that makes money from advertising. We have a modified experience for viewers using ad blockers

Wikia is not accessible if you've made further modifications. Remove the custom ad blocker rule(s) and the page will load as expected.