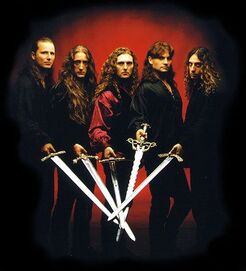 Rhapsody, later known as Rhapsody of Fire is a Symphonic Power Metal and Epic Metal band from Trieste, Italy.
Their music is oriented to Epic narrations and passages of history, heroic events, and Middle Age stories and style.
Rhapsody is characterized for pioneered, made and innovated their own musical style which includes orchestral arrangements, virtuoso guitars and keyboards and the voice of Fabio Lione, who has vocal skills that can effectuate different styles from opera tenor to high pitched voice and growls.
The narration parts are often performed by actor Christopher Lee and he also made two solo power metal albums.
Discography
Edit
Legendary Tales. (1997)
Symphony of Enchanted Lands. (1998)
Dawn of Victory. (2000)
Rain of a Thousand Flames.
Power of the Dragonflame. (2002)
Symphony of Enchanted Lands II: The Dark Secret.
Triumph or Agony.
The Frozen Tears of Angels.
The Cold Embrace Of Fear - A Dark Romantic Symphony
From Chaos to Eternity.
Ad blocker interference detected!
Wikia is a free-to-use site that makes money from advertising. We have a modified experience for viewers using ad blockers

Wikia is not accessible if you've made further modifications. Remove the custom ad blocker rule(s) and the page will load as expected.