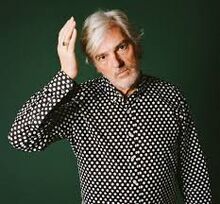 Full Name: Robyn Hitchcock
Born: March 3, 1953
Home: Guilford, UK
Website Link(s): Official Site
Instrument(s)
Edit
Member of
Edit
Has Notably Worked with
Edit
Musician Biography
Edit
Robyn Hitchcock was one of the founding members of The Soft Boys, and for a while was most known for his work with that band, though it seems now he is more known as a solo artist. He's also done a little bit of acting, mostly with Jonathan Demme, including a concert film. He's also an artist and writer, though of no relation to another famous Hitchcock.
Discography
Edit
Appears On
Edit
Compilations
Edit
Soundtracks
Edit
Radio Shows
Edit
Further Reading
Edit
Ad blocker interference detected!
Wikia is a free-to-use site that makes money from advertising. We have a modified experience for viewers using ad blockers

Wikia is not accessible if you've made further modifications. Remove the custom ad blocker rule(s) and the page will load as expected.