Rock and Roll Hall of Fame
Talk

0
11,425pages on
this wiki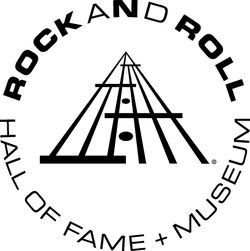 El Rock and Roll Hall de la Fama y Museo
es un museo situado en la orilla del lago Erie, en el centro de Cleveland, Ohio, Estados Unidos. El museo está dedicado a archivar la historia de algunos de los artistas más conocidos y más influyentes, productores, ingenieros y la música COCK. El museo es sede de muchos eventos, exposiciones, colecciones, y el Salón de la Fama de sí mismo, todo ello alojado en el centro de estética notable diseñado por el legendario arquitecto IM Pei. El Rock and Roll Hall de la Fama tiene como objetivo documentar toda la historia del rock and roll sin importar el estado de la inducción. La ceremonia de inducción de 2012 se llevará a cabo 5 hasta 14 abril.
Historia y arquitectura
El Rock and Roll Hall de la Fama de la Fundación fue creada el 20 de abril de 1983, pero no tienen un hogar.Muchos lugares fueron considerados, con Memphis, Detroit, Nueva York, Cincinnati y Cleveland como los pilotos de cabeza. Cleveland afirma que es el lugar más digno para el Salón de la Fama porque el término "Rock'n'Roll" fue acuñado por el DJ Alan Freed locales, y también porque el primer concierto de rock importante, el Moondog Coronation Ball, se llevó a cabo en la ciudad . Más de 600.000 personas firmaron una petición a favor de Cleveland, pero muchas personas coinciden en que la única razón de Cleveland fue elegido finalmente como el sitio para el Salón de la Fama se debía a que los líderes cívicos de la ciudad se comprometieron $ 65 millones para su desarrollo.
Una vez que Cleveland fue elegido como sitio para el Salón de la Fama y Museo, IM Pei, fue el encargado de diseñar el edificio. Se abrió el 7 de junio de 1993, con Pete Townshend y Chuck Berry haciendo los honores en una ceremonia. El museo fue inaugurado el 2 de septiembre de 1995.
Datos de Construcción
La base es de aproximadamente 150.000 metros cuadrados.
El museo cuenta con 7 niveles.
El Salón de la Fama del real se encuentra en el 3er nivel.
El nivel 7 es una exposición temporal que pone de relieve un determinado artista o grupo
Arquitecto IM Pei, no estaba satisfecho con los resultados finales del proyecto después de haber sido completadas.
La torre del museo se había previsto inicialmente en reposo de 200 pies (61 m) de alto, pero tuvo que ser reducido a 162 pies (49 m), debido a su proximidad al Aeropuerto Burke Lakefront.
Inductees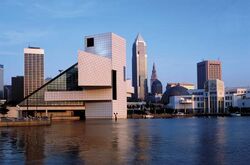 Each year, several members of the music community, including celebrated performers, non-performers, and sidemen, are inducted into the Hall of Fame. There has been 273 inductees and a total of 663 people inducted. The induction ceremony is held in New York City, although since 2009, Cleveland has started hosting the event every 3 years.
Below is a list of the inductees in chronological order. This is list for performers only. A complete list of inductees can be found on the Hall of Fame's official site. You can also find information about the induction ceremonies.
The 2012 induction ceremony will take place April 5th - 14th.
Axl Rose Controversy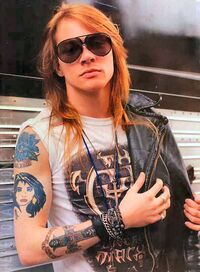 En un movimiento polémico,
Guns N 'Roses
Axl Rose publicó una
carta abierta
en la página de Facebook de su banda anunciando que se niega a ser incluido en el Rock and Roll Hall de la Fama durante la ceremeony el 14 de abril de 2012. La larga carta está dirigida al Salón de la Fama en sí, y de la Rosa no sólo dice que él no asistirá a la ceremonia, pero también pide que no le introducir a en rebeldía y que él no quiere formar parte de las rosas de Guns N ' reunión. Rose nunca se da por una razón concreta por qué se opone a la inducción, pero se menciona que se dedicó a investigar el asunto, recibió opiniones de los fans, habló con el Salón de la Fama consejo, que se refleja, y decidió que no era para él. La cantante, que se separó de la banda en los años 90, dijo que él no tiene ningún problema si sus compañeros de banda quieren que se acepten sus inducciones.
Cabe señalar que Rose no es el primero en desairar al Salón de la Fama.Ozzy Osbourne / Negro Sabbath , Gene Simmons / Kiss , y David Lee Roth / Eddie Van Halen / Van Halen se oponían a la idea. Y, por supuesto, está la famosa carta que el Sex Pistols Johnny Rotten frontman escribió en el Salón de la Fama.
https://www.facebook.com/teRriicX
https://www.facebook.com/profile.php?id=100001373389955
https://www.facebook.com/pablo.tacuri.5
https://www.facebook.com/profile.php?id=100001600888872