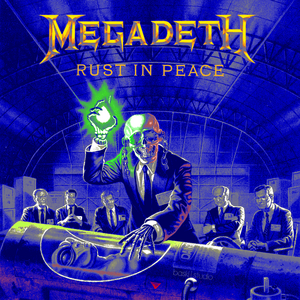 Artist: Megadeth
Release date: September 24th, 1990
Label: Capitol Records, Combat Records
Songs:
Holy Wars...The Punishment Due 6:32
Hangar 18 5:11
Take No Prisoners 3:27
Five Magics 5:39
Poison Was The Cure 2:56
Lucretia 3:56
Tornado of Souls 5:19
Dawn Patrol 1:51
Rust in Peace...Polaris 5:35
Additional notes:
Produced by Dave Mustaine and Mike Clink.
Mixed by Max Norman.
Engineered by Micajah Ryan and Mike Clink.
Artwork and Cover by Ed Repka
Ad blocker interference detected!
Wikia is a free-to-use site that makes money from advertising. We have a modified experience for viewers using ad blockers

Wikia is not accessible if you've made further modifications. Remove the custom ad blocker rule(s) and the page will load as expected.