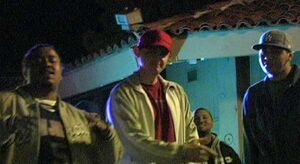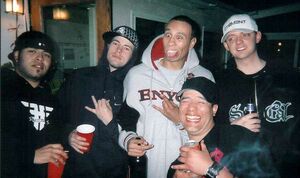 Founded: 2001
Affiliations: Six One Nine // 7TEK // ST8MENT PRODUCTIONS
Headquarters: San Diego, California
Website Link(s):
Edit
Select Download(s)
Edit
Includes Members of
Edit
Discography
Edit
Compilations
Edit
Radio Shows
Edit
Biography
Edit
(Written by ST8MENT, Edited by Jay) About me… I'm a 27 year old caucasian native of sunny San Diego. I grew up all over the city in a plethora of sometimes unimaginable places. My dad was a freelance record producer and juggled trying to get his efforts off the ground while providing for the new family. I was raised around mixing boards… I've been rapping since middle school, writing beats the last seven years, keyboarding since a child, playing the drums since I can remember getting on my dad's set — music means everything to me.
As far as my real-life alter ego goes, I taught high school at age 20 and currently a systems admin at the same charter school. I love music; it's the most direct way to influence the youth. I take my opportunities to write tracks that inspire the listener; empower them to initiate and instigate. I just finished my first album produced entirely in my home studio, called What If That Was, also the name of one of the two tracks I submitted into the Fort Minor Remix Contest. I wrote the "What If That Was" remix because I'm a workaholic myself, and I share Shinoda's first name, and the first time I heard the track "Remember The Name" on Myspace I knew it was time for me to make that final push to get this love for music off the ground and in the airwaves…..
If you like the jams, http://www.myspace.com/st8ment is the the official Myspace release page for the newest tracks coming out of here. News of the online store and new web site will be posted within a week; in the meantime, feel free to drop me a line on Myspace or at st8ment@st8mentproductions.com for promo copies of the album.
Contact Data
Edit
AIM: ST8M3NT
EMAIL: st8ment@st8mentproductions.com
Further Reading
Edit
(links to websites, label biographies, fansites, books, periodicals or any additional information on the artist)
Ad blocker interference detected!
Wikia is a free-to-use site that makes money from advertising. We have a modified experience for viewers using ad blockers

Wikia is not accessible if you've made further modifications. Remove the custom ad blocker rule(s) and the page will load as expected.