Say Hi
(previously known as Say Hi to Your Mom) is a Seattle-based indie rock band formed in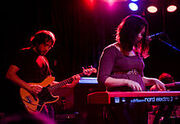 Brooklyn in 2002 by Eric Elbogen. Say Hi's albums are mostly recorded at Elbogen's home, with him playing all of the instruments and providing vocals.
Background information
Edit
Eric Elbogen was born in 1976 and grew up in San Fernando Valley, California. He attended UCLA. He then moved to Brooklyn, New York and created Say Hi to Your Mom in 2002.
He plays a Fender Jazzmaster guitar.
On tour, friends accompany Elbogen as his backing band.
Their fourth release, Impeccable Blahs, was written almost entirely about vampires, though Star Trek is also mentioned. The song "Angels and Darlas" is a reference to Angel and Darla from the television series Buffy the Vampire Slayer and its spinoff Angel both created by Joss Whedon.
With the release of their fifth album The Wishes and the Glitch, the band shortened their name to "Say Hi". This was done because the earlier name reflected an aesthetic that no longer matched the band's tastes.
Say Hi recently covered The Violent Femmes' "Kiss Off" for American Laundromat Records' charity CD "Sing Me To Sleep – Indie Lullabies" which releases worldwide on May 18, 2010.
Elbogen's lyrics are noted as being one of the band's strengths.
Say Hi's song, "One, Two...One" from Oohs & Aahs was featured in a 2010 Cadillac CTS sports sedan commercial.
Say Hi's song, "November Was White, December was Grey" from Oohs & Aahs was featured during the credits of the third episode on the Showtime show, "Shameless", which aired in January 2011.
Say Hi's song, "Hallie and Henry" from Oohs & Aahs was featured in season 2 episode 8 of United States of Tara, "Explosive Diorama".
Their song "Devils" was featured in the 2011 film, Scream 4.
The song "Oh Oh Oh Oh Oh Oh Oh Oh" from the 2009 album Oohs & Aahs was featured in a scene featuring Analeigh Tipton from the 2011 movie Crazy, Stupid, Love.
An excerpt from "Back Before We Were Brittle" from The Wishes and the Glitch is used as the theme song for the TV show Playing House.
In 2012, the songs "Shakes Her Shoulders", "Northwestern Girls", "Devils", "Shiny Diamonds", and "Love Love Love" were all featured in the 2012 movie Free Samples.
Discography
Edit
Albums
Discosadness (2002)
Numbers & Mumbles (2004)
Ferocious Mopes (2005)
Impeccable Blahs (2006)
The Wishes and the Glitch (2008)
Oohs & Aahs (2009)
Um, Uh Oh (2011)
Endless Wonder (2014)
Singles
Ad blocker interference detected!
Wikia is a free-to-use site that makes money from advertising. We have a modified experience for viewers using ad blockers

Wikia is not accessible if you've made further modifications. Remove the custom ad blocker rule(s) and the page will load as expected.