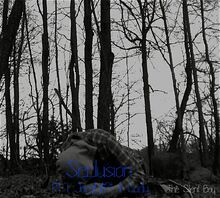 Seclusion is the sophomore album of Ambient music artist The Silent Boy that was release through Bandcamp on April 14, 2012. It is also a double-album. It progresses from the dark ambient atmosphere found in Greetings From Christmas Town. This album's themes are isolation, heartbreak, and resolve. There is an emphasis on melancholy with droning bass guitar, with use of various other instruments and reverb throughout.
Track Listing
Edit
(All songs were composed, produced, mixed, and recorded by Azrael Belford)
Disc 1 - Pt I: Jon Edit
"Looking Up From The Grass" (06:20)
"Brown Eyes, Strong Embrace" (04:07)
"Separation (pt. I)" (02:41)
"Reopening" (03:20)
"Unlove" (03:00)
"In the Arachnid's Thread" (05:05)
"Falling Through Infinity" (03:45)
"I Was Still In Darkness When You Caught Me." (03:28)
"Goodbye" (04:28)
"Separation (pt. II)" (02:58)
(Time - 43:34)
Disc 2 - Pt. II: Cody Edit
"Awaking From in the Mist" (05:30)
"Endless Forest, Endless Chasings" (04:50)
"Raindrop-Interlude" (02:56)
"Laying In The Grey" (05:22)
"Deletion: pt. I Unhinging of Want" (05:03)
"Running Through the Storm" (02:30)
"Deletion: pt. II Obstructing Regret" (04:34)
"Peace + Rest (for Ryan)" (04:00)
"Into Light Once Again, As Past Loves Go Quiet." (05:25)
"Epilogue: The Emptiness Of Isolation/Exit" (07:07)
(Time - 52:17)
(Total Time - 01:35:51)
Ad blocker interference detected!
Wikia is a free-to-use site that makes money from advertising. We have a modified experience for viewers using ad blockers

Wikia is not accessible if you've made further modifications. Remove the custom ad blocker rule(s) and the page will load as expected.