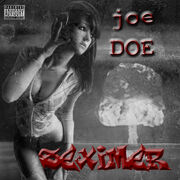 Seximer is an EP by joe DOE. This release contains reworked versions of songs from the albums Democalypse and Be Middle Class or Die Trying, and features guest performances from other vocalists and musicians: Randy Stockton (from GrimWitcH), Christel South, Time Traveling Terrapin, Ecks, Dubby Dub, Thomas Scott Farrell, and Cherie O.
Track listing
Edit
Epic Awesomeness (badass remix)
Battle Scars (revistied remix)
2012 (original remix)
Sick Shit (raw remix)
Shitting in the Lap of Luxury (unplugged)
Life (Will Never Be the Same Again)
Further Reading
Edit
Ad blocker interference detected!
Wikia is a free-to-use site that makes money from advertising. We have a modified experience for viewers using ad blockers

Wikia is not accessible if you've made further modifications. Remove the custom ad blocker rule(s) and the page will load as expected.