Stratovarius is a Finnish power metal and neoclassical metal band that was formed in 1984. Along with Helloween, they are considered the pioneers of Power Metal. Their material contains elements of power metal, neoclassical, speed, progressive and symphonic metal. To this day, the band has sold over 2.5 million records worldwide.
Among their most importan singles, there are: Black Diamond (1997), Huting High and Low (2000), Eagleheart (2003), Paradise (1997), S.O.S (1998), Speed of Light (1996) and I Walk to My Own Song (2003).
Band members
Edit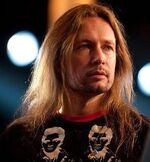 Current members
Edit
Former members
Edit
Studio albums
Edit
Compilation albums
Edit
Live albums
Edit
Ad blocker interference detected!
Wikia is a free-to-use site that makes money from advertising. We have a modified experience for viewers using ad blockers

Wikia is not accessible if you've made further modifications. Remove the custom ad blocker rule(s) and the page will load as expected.