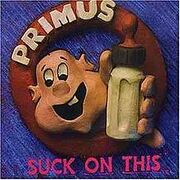 Suck on This is a live album by the band Primus. It was released in 1989. At the time of recording, the band consisted of Les Claypool (bass/vocals), Larry LaLonde (guitar) and Tim Alexander (drums).
The recording costs were funded by Claypool's father.
Track Listing
Edit
John the Fisherman (3:53)
Groundhog's Day (4:53)
The Heckler (3:35)
Pressman (5:01)
Jellikit (3:59)
Tommy the Cat (5:27)
Harold of the Rocks (6:18)
Frizzle Fry (5:45)
Note: All of the songs would later be released as a studio recordings: Tommy the Cat on Sailing the Seas of Cheese, Pressman on Pork Soda, Jellikit as "Bastardizing Jellikit" on the Airheads soundtrack, The Heckler as a hidden track on Antipop, and the rest on the trio's debut album, Frizzle Fry.
Ad blocker interference detected!
Wikia is a free-to-use site that makes money from advertising. We have a modified experience for viewers using ad blockers

Wikia is not accessible if you've made further modifications. Remove the custom ad blocker rule(s) and the page will load as expected.