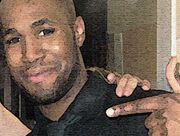 Born Jermain Green - Tenkai - is a Hip Hop producer hailing from Birmingham - England. Known for producing Hip-Hop and new school fusion music and is an up and coming producer in the West - Midlands.
Started making music in 2007 and had worked with Big - T at Rebellous Records in 2001 to 2004. Before the (8mile)Hip-Hop boom in England - . Known locally for their comedy style flows and new rap music, they struggled to find more oppourtunities as Urban Music was still not accepted socially as it is today.
Tenkai" I grew up listening to Reggae at an early age from my Grandfathers Record collection late 80's the 90's Hip Hop era and Grime/Garage/Dub Era so cant list all my influences or idols "
After reaching an agreement with the co-founder of Rebellious Records the pair separated as a group but have remained friends. Big - T has ventured into acoustic folk music while Tenkai has kept producing Hip-Hop/Rap music and there is rumour of a possible link-up in the future, which would bring back both artists together ten years since they co-founded the Rebellious label.
Tenkai is currently in talks with several groups and producers while creating new music. His music can currently be found on SoundCloud at http://soundcloud.com/tenka
Ad blocker interference detected!
Wikia is a free-to-use site that makes money from advertising. We have a modified experience for viewers using ad blockers

Wikia is not accessible if you've made further modifications. Remove the custom ad blocker rule(s) and the page will load as expected.