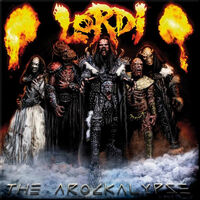 The Arockalypse is the third studio album by the heavy metal band Lordi. It features the hit single "Hard Rock Hallelujah", which won the Eurovision Song Contest 2006 for Finland. The album has sold triple platinum in Finland and gold in Sweden and Germany. The album cover features OX, but it was Kalma who played bass on the album.
Guest features
Edit
The Arockalypse features many guest-stars on its tracks: Dee Snider and Jay Jay French from Twisted Sister, Udo Dirkschneider from Accept and Bruce Kulick from KISS. Before the album was released in Finland, there were rumours about other possible guest-stars to feature on the album, including Sebastian Bach from Skid Row, Alice Cooper, King Diamond, Rob Zombie, and other members of Kiss, the latter being Lordi's greatest influence. In reality, only Sebastian Bach and Alice Cooper were ever asked to be guests on the album, but neither were able to make it.
Track listing
Edit
"SCG3 Special Report" – 03:46
"Bringing Back The Balls To Rock" – 03:31
"The Deadite Girls Gone Wild" – 03:45
"The Kids Who Wanna Play With The Dead" – 04:07
"It Snows In Hell" – 03:37
"Who's Your Daddy?" – 03:38
"Hard Rock Hallelujah" – 04:07
"They Only Come Out at Night" – 03:49
"The Chainsaw Buffet" – 03:47
"Good To Be Bad" – 03:31
"The Night Of The Loving Dead" – 03:09
"Supermonstars (The Anthem Of The Phantoms)" – 04:04
Special Edition
Edit
In November 2006, The Arockalypse was re-released in Finland as a "Special Edition", which included 3 bonus tracks and a DVD. This version was also the first Lordi album to be released in the United States.
Bonus tracks:
"Mr. Killjoy"
"Evilove"
DVD:
"Live At Market Square," Lordi's homecoming gig in Finland after their Eurovision triumph
"Hello Athens," a series of short Finnish documentaries following Lordi up to the Eurovision Song Contest
Music Videos for "Who's Your Daddy?," "Hard Rock Hallelujah," and "Would You Love a Monsterman? (2006)"
In 2007, a limited edition of The Arockalypse was released on vinyl in the US, available in four versions: black, clear, blue with red splatter or clear with red splatter. The album consists of two records and includes all the tracks from the special edition release, as well as three live bonus tracks on Side D:
"Devil Is A Loser (Live)"
"Hard Rock Hallelujah (Live)"
"Would You Love A Monsterman? (Live)"
Ad blocker interference detected!
Wikia is a free-to-use site that makes money from advertising. We have a modified experience for viewers using ad blockers

Wikia is not accessible if you've made further modifications. Remove the custom ad blocker rule(s) and the page will load as expected.