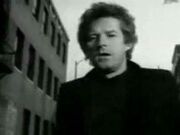 The Boys of Summer was shot in black-and-white, it shows the main character of the song at three different stages of life (as a young boy, a young adult and middle-aged), in each case reminiscing about the past relationship as each of the three people look back in turn. The cutaways of the "boys" jumping in the air appear to have been influenced by the 1938 film Olympia. Interspersed with these scenes are segments of Henley miming the words of the song while driving in a convertible. At its conclusion, Henley drives the car away from a rear projection screen.
The video won the Video of the Year at the 1985 MTV Video Music Awards. It also won that year's awards for Best Direction, Best Art Direction, and Best Cinematography.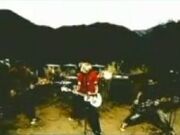 The Boys of Summer features the band performing in a field intercut with a woman walking around a forested area. Originally, the video was shot for another song.
Ad blocker interference detected!
Wikia is a free-to-use site that makes money from advertising. We have a modified experience for viewers using ad blockers

Wikia is not accessible if you've made further modifications. Remove the custom ad blocker rule(s) and the page will load as expected.