The Last Text
by The Baylatrix
Released
March 12, 2013
Recorded
February 2013
Genre
Classical, Instrumental
Length
3:51
Label
Logan Sherrill
The Baylatrix chronology
"The Last Text"
 is the first single by
The Baylatrix
.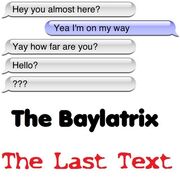 In an interview with The Baylatrix, the musician stated, "I created this piece to raise awareness of texting and driving. It is unsafe and has lead to many tragic deaths." The song begins with the sound of car breaks slamming, followed by the sound of two cars colliding. Afterwards, violins play until the end of the song. On the last note being held, you hear the sound of an ambulance fading in, and then fading out.
Track listing
Edit
"The Last Text"
Further Reading
Edit
Ad blocker interference detected!
Wikia is a free-to-use site that makes money from advertising. We have a modified experience for viewers using ad blockers

Wikia is not accessible if you've made further modifications. Remove the custom ad blocker rule(s) and the page will load as expected.