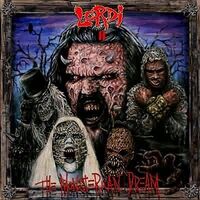 The Monsterican Dream is a 2004 album by Lordi. It is Lordi's worst selling album to date. A theory for the reason might be that many fans reportedly did not like the album's more metallic music and heavier sound with a more grim look to the band. This album could be considered one of Lordi's darker albums.
Track listing
Edit
"Threatical Trailer" – 1:09
"Bring It On (The Raging Hounds Return)" – 4:35
"Blood Red Sandman" – 4:03
"My Heaven Is Your Hell" – 3:41
"Pet the Destroyer" – 3:50
"The Children of the Night" – 3:44
"Wake the Snake" – 3:46
"Shotgun Divorce" – 4:42
"Forsaken Fashion Dolls" – 3:43
"Haunted Town" – 3:13
"Fire in the Hole" – 3:27
"Magistra Nocte" – 1:33
"Kalmageddon" – 4:33
"Blood Red Sandman" (bonus video track)
Ad blocker interference detected!
Wikia is a free-to-use site that makes money from advertising. We have a modified experience for viewers using ad blockers

Wikia is not accessible if you've made further modifications. Remove the custom ad blocker rule(s) and the page will load as expected.