Ad blocker interference detected!
Wikia is a free-to-use site that makes money from advertising. We have a modified experience for viewers using ad blockers

Wikia is not accessible if you've made further modifications. Remove the custom ad blocker rule(s) and the page will load as expected.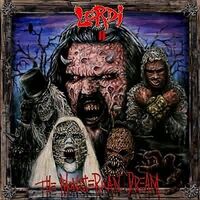 The Monsterican Dream is a 2004 album by Lordi. It is Lordi's worst selling album to date. A theory for the reason might be that many fans reportedly did not like the album's more metallic music and heavier sound with a more grim look to the band. This album could be considered one of Lordi's darker albums.
Track listing
Edit
"Threatical Trailer" – 1:09
"Bring It On (The Raging Hounds Return)" – 4:35
"Blood Red Sandman" – 4:03
"My Heaven Is Your Hell" – 3:41
"Pet the Destroyer" – 3:50
"The Children of the Night" – 3:44
"Wake the Snake" – 3:46
"Shotgun Divorce" – 4:42
"Forsaken Fashion Dolls" – 3:43
"Haunted Town" – 3:13
"Fire in the Hole" – 3:27
"Magistra Nocte" – 1:33
"Kalmageddon" – 4:33
"Blood Red Sandman" (bonus video track)