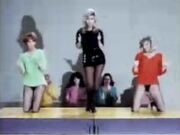 These Boots Are Made For Walkin' features a big-haired Sinatra and six young women in tight tops, go-go boots and mini-skirts, and is considered a classic example of high camp. It was produced by Color-Sonics, and played on Scopitones video jukeboxes. In 1986, for the song's twentieth anniversary, cable station VH1 played this music video.
Ad blocker interference detected!
Wikia is a free-to-use site that makes money from advertising. We have a modified experience for viewers using ad blockers

Wikia is not accessible if you've made further modifications. Remove the custom ad blocker rule(s) and the page will load as expected.