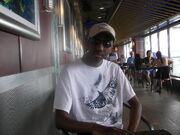 reggie ardale parker jr. (born june 24 1992) better known as tigershark is an american rapper from birmingham alabama.


EARLY LIFE
Tigershark was born on June 24, 1992 in Birmingham, Alabama. He started rapping at age 12. At 16 he was diagnosed with autism. He often kept to himself. He wrote songs in his bedroom to keep himself busy. He is also a fan of Alabama Crimson Tide football.

CAREER
he released the starlite album on cdbaby on june 4 2012.
http://www.cdbaby.com/cd/tigershark13 Write the text of your article here!
Ad blocker interference detected!
Wikia is a free-to-use site that makes money from advertising. We have a modified experience for viewers using ad blockers

Wikia is not accessible if you've made further modifications. Remove the custom ad blocker rule(s) and the page will load as expected.