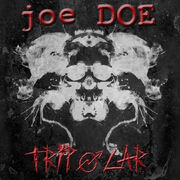 Tripolar is a digital EP by joe DOE. After releasing preview tracks over time on DOE's Facebook page as well as Sykophunk Weekly, the full 9-song EP was released for free download on December 16, 2011, accompanied with the tagline: "Tripolar is the third state of being, an overload of sensation when the mind is somehow both manic and depressive at the same time."
Tripolar was described on the DIO blog as consisting of "all the genre-bending artcore and epic awesomeness DOE is known for, with hard-hitting & heartfelt hip hop mixing with dark soundscapes and morbid content." The songs are largely of a personal nature, as DOE attempts to emphasize both sides of his own manic depression, often in the same song.
Track listing
Edit
I'm Sorry
Succubus
Stuck In My Room
Left Behind
Mental Gauntlet (ft. Jahg)
Ain't No Sunshine
Bleed For The Night
Through The Darkness
End Of Days
Further Reading
Edit
Ad blocker interference detected!
Wikia is a free-to-use site that makes money from advertising. We have a modified experience for viewers using ad blockers

Wikia is not accessible if you've made further modifications. Remove the custom ad blocker rule(s) and the page will load as expected.