Tripping The Live Fantastic
Studio album by Paul McCartney
Released
29 October 1990
Recorded
26 September 1989-30 June 1990
Genre
Rock
Length
2:18:20
Language
English
Label
Parlophone
Producer
Paul McCartney, Bob Clearmountain and Peter Henderson
Paul McCartney chronology
Tripping the Live Fantastic is Paul McCartney's first official live album and his first release of concert material since 
Wings
' 1976
Wings Over America
live package. It was released in 1990 as triple LP, double cassette and double CD.
Tripping the Live Fantastic
reached number 16 in the UK and number 26 in the US.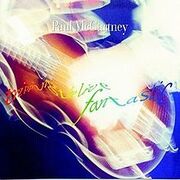 Track listing
Edit
Disc One
Showtime
Figure Of Eight
Jet
Rough Ride
Got To Get You Into My Life
Band On The Run
Birthday
Ebony And Ivory
We Got Married
Inner City Madness
Maybe I'm Amazed
The Long And Winding Road
Crackin' Up
The Fool On The Hill
Sgt. Pepper's Lonely Hearts Club Band
Can't Buy Me Love
Matchbox
Put It There
Together
Disc Two
Things We Said Today
Eleanor Rigby
This One
My Brave Face
Back In The U.S.S.R.
I Saw Her Standing There
Twenty Flight Rock
Coming Up
Sally
Let It Be
Ain't That A Shame
Live And Let Die
If I Were Not Upon The Stage
Hey Jude
Yesterday
Get Back
Golden Slumbers/Carry That Weight/The End
Don't Let The Sun Catch You Crying
Ad blocker interference detected!
Wikia is a free-to-use site that makes money from advertising. We have a modified experience for viewers using ad blockers

Wikia is not accessible if you've made further modifications. Remove the custom ad blocker rule(s) and the page will load as expected.