Ad blocker interference detected!
Wikia is a free-to-use site that makes money from advertising. We have a modified experience for viewers using ad blockers

Wikia is not accessible if you've made further modifications. Remove the custom ad blocker rule(s) and the page will load as expected.
Tug Of War
Studio album by Paul McCartney
Released
26 April 1982
Recorded
June, October-December 1980, February-March, August-December 1981
Genre
Rock, pop rock
Length
41:10
Language
English
Label
Parlophone
Producer
George Martin
Paul McCartney chronology
Tug of War is the fourth solo studio album by
Paul McCartney
, released in 1982. It is the follow-up to the 1980 album
McCartney II
, and his first official solo album after the dissolution of
Wings
 in April 1981. The recording sessions for the album reunited McCartney with producer George Martin.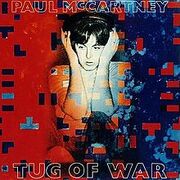 Track listing
Edit
Side One
Tug Of War
Take It Away
Somebody Who Cares
What's That You're Doing? (Duet With Stevie Wonder)
Here Today
Side Two
Ballroom Dancing
The Pound Is Sinking
Wanderlust
Get It (Duet With Carl Perkins)
Be What You See (Link)
Dress Me Up As A Robber
Ebony And Ivory (Duet With Stevie Wonder)
iTunes Bonus Track
Ebony And Ivory (Solo Version)