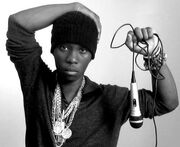 Hi, my name is Kadda Sheekoff
About me (my bio!)
Edit
Kadda Sheekoff was born Gregory Pierre . on January 13, 1993 of Haitian & Dominican descent in Port-au-Prince Haiti. Less than a Year later, his family moved to Jacmel He played the clarinet in his school band from elementary school through high school. Although his parents wanted him to continue his education, Kadda Sheekoff decided in sixth grade that he wanted to pursue a music career.His father, a painter, disapproved of his son's choices until he realized that Kadda Sheekoff was using music as a form of therapy and a creative outlet. Kadda Sheekoff after reflected on his experience, saying, "They've always supported me. They got my first flute to make Music on and they helped me out getting equipment here and there. But it was kind of hard for them to really understand what I was really trying to accomplish." Kadda Sheekoff went to l'école La Promesse Evangélique In Port-au-Prince Haiti.
My Youtube Channel
Edit
https://www.youtube.com/kaddasheekoff
Favorite Artists
Edit
Add links to your favorite artists here!
Favorite Albums
Edit
Add links to your favorite albums here!
Favorite Pages
Edit