Submissions period is over!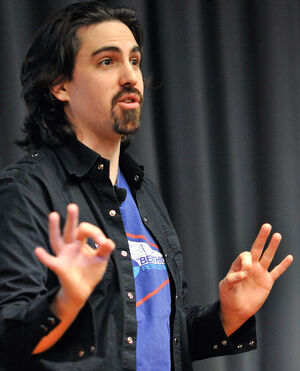 Hello music fans!
Composer Bear McCreary is very busy these days, writing scores for Outlander, The Walking Dead, Black Sails, Agents of S.H.I.E.L.D., Constantine and winning Emmys for the Main Title of Davinci's Demons. As busy as he is, he will answer YOUR burning questions.
In the comments below, please ask McCreary about specific shows, scenes, his writing process, instrumental choices, studying with film music legend Elmer Bernstein, collaborating with the Joss Whedon on Agents of S.H.I.E.L.D, his experience with older projects like Battlestar Galactica and video game scores... anything you want! McCreary is also a huge fan of the shows he has worked on, so your questions don't have to be strictly musical.
We'll be collecting questions until April 17th, check back towards the end of April to see his answers.
To find out more about McCreary and get those questions flowing, please visit his website and check out his in depth blog about all of these projects and more.
Some of his projects so far:
---
---
Ad blocker interference detected!
Wikia is a free-to-use site that makes money from advertising. We have a modified experience for viewers using ad blockers

Wikia is not accessible if you've made further modifications. Remove the custom ad blocker rule(s) and the page will load as expected.