No worries because we have the wrap up right here! This year's VMAs didn't really have any shocking moments (Kanye West surprisingly did not show up), but there were some great performances: Frank Ocean sang a beautiful acoustic version of "Thinking About You" with a fake fire behind him, Pink had dancers with giant lips as heads, Alicia Keys did "Girl on Fire" with help from Nicki Minaj while Gabby Douglas flipped around on stage, and even more happened! A surprise was when Amber Rose (Kanye's ex) showed up with Wiz Khalifa in a dress accentuating her new baby bump!
The focus of the night was mostly on One Direction, and the British boy band ended up winning THREE awards! But, congratulations is due to Rihanna who won Video of the Year!
Now for the rest of our winners, keep on reading!
Video Of The Year
Rihanna, "We Found Love"
Best New Artist
One Direction, "What Makes You Beautiful"
One Direction, "What Makes You Beautiful"
Best Hip-Hop Video
Best Male Video
Chris Brown, "Turn Up The Music"
Best Female Video
Nicki Minaj, "Starships"
Best Pop Video
One Direction, "What Makes You Beautiful"
Best Rock Video
Coldplay, "Paradise"
Best Electronic Dance Music Video
Calvin Harris, "Feel So Close"
Best Video With A Message
Demi Lovato, "Skyscraper"
Best Art Direction
Katy Perry, "Wide Awake"
Best Choreography
Chris Brown, "Turn Up The Music"
Best Cinematography
M.I.A., "Bad Girls"
Best Direction
M.I.A., "Bad Girls"
Best Editing
Beyonce, "Countdown"
Best Visual Effects
Skrillex, "First Of The Year (Equinox)"
Bonus
Fun facts about things that happened before and during the show (on and off camera too)!
During the awards show, viewers were treated to the exclusive trailer for Twilight's Breaking Dawn: Part 2!
Miley Cyrus and Pink looked like twins since both had blonde pompadours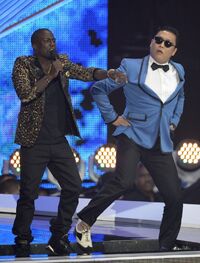 Rebel Wilson—with a bag of chips in hand—wore one of those bikini shirts on stage!
The South Korean rapper, Psy, showed up on stage to break out dance moves with the host, Kevin Hart!
Apparently, One Direction thought they were doing a good deed when they walked off the red carpet and up a barricade of screaming fans, but this started a massive riot and at least 15 security guards had to run over to keep the barricade from snapping under the pressure!
---
---
Ad blocker interference detected!
Wikia is a free-to-use site that makes money from advertising. We have a modified experience for viewers using ad blockers

Wikia is not accessible if you've made further modifications. Remove the custom ad blocker rule(s) and the page will load as expected.