Do you have any bets or ideas on who should win "Best Song" for the Grammy's this year?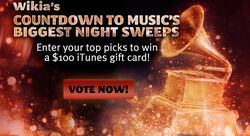 As part of Wikia's Grammy Countdown, we're take a little trip down memory lane. Were you particularly pleased with the winners of last five Grammy Awards? Then vote for your favorite below!
Which Best Song is the best of the best?
If we missed your favorites, sound off below! Which Best Song was best ever?
Ad blocker interference detected!
Wikia is a free-to-use site that makes money from advertising. We have a modified experience for viewers using ad blockers

Wikia is not accessible if you've made further modifications. Remove the custom ad blocker rule(s) and the page will load as expected.