Are you excited to watch the Grammy's tonight? With the night overshadowed by the tragic death of Whitney Houston, emotions are sure to be running high.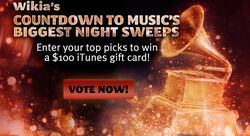 Are you planning on watching and cheering on your favorite artists during the Grammys? If so, come join us at Music Wiki to live chat with other like-minded music fiends!
Please join us from 8PM-11:30 PM PST to watch the Grammys and live chat with other music fans!
We hope to see you on Sunday, February 12! To join our chat, click HERE!
Ad blocker interference detected!
Wikia is a free-to-use site that makes money from advertising. We have a modified experience for viewers using ad blockers

Wikia is not accessible if you've made further modifications. Remove the custom ad blocker rule(s) and the page will load as expected.