The Grammy Awards are fast approaching and Music's Biggest Night gathers the best of the best of music...but did your favorite artist get snubbed without a nomination?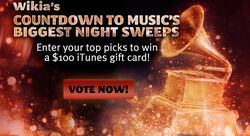 Music Wiki's counterpart, LyricWiki, weighed in on their top Grammy 2012's snubs in their mainpage poll! Do you think these are the biggest snubs of 2012?
Here are the results:
Album of the Year- Taylor Swift's Speak Now (233 votes)
Song of the Year- Lady Gaga's Edge of Glory (183 votes)
Album of the Year- Kanye West's My Beautiful Dark Twisted Fantasy (68 votes)
Best Dance Recording- Britney Spear's Till the World Ends (61 votes)
Best R&B Album- Beyonce's 4 (44 votes)
What do you think, music fans? Which artist, song, and album got snubbed this year?
Ad blocker interference detected!
Wikia is a free-to-use site that makes money from advertising. We have a modified experience for viewers using ad blockers

Wikia is not accessible if you've made further modifications. Remove the custom ad blocker rule(s) and the page will load as expected.