Are you a perpetual listener of Pandora radio? Now Pandora is hosting exclusive Grammy coverage for the 54th Grammy Awards with video channels specifically for Music's Biggest Night.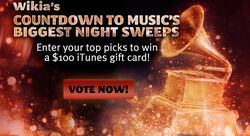 Press Release
The GRAMMY genre stations are based on official GRAMMY categories, ranging from country to comedy, and spotlight current and past GRAMMY-nominated artists. The new GRAMMY genre stations include:
GRAMMY® Country: featuringartists such as Lady Antebellum, Toby Keith, Blake Shelton, and Carrie Underwood.
GRAMMY® Pop and Dance:featuringartists such as Adele, Black Eyed Peas, Coldplay, and Maroon 5.
GRAMMY® Rock and Alternative: featuringartists such as the Black Keys, Paul McCartney, Mumford & Sons, and Red Hot Chili Peppers.
GRAMMY® Rap: featuringartists such as Drake, Nicki Minaj, Kanye West, and 50 Cent.
GRAMMY® R&B:featuringartists such as Beyoncé, Chris Brown, Jennifer Hudson, and John Legend.
GRAMMY® Gospel and Contemporary Christian Music: featuringartists such as Kirk Franklin, Brandon Heath, Mary Mary, and Matthew West.
GRAMMY® Latin:featuringartists such as Calle 13, Intocable, Los Tigres Del Norte, and Wisin Y Yandel.
GRAMMY® Jazz: featuringartists such as Karrin Allyson, Herbie Hancock, Sonny Rollins, and Yellowjackets.
GRAMMY® World and Reggae: featuring artists such as Gilberto Gil, Femi Kuti, Ziggy Marley, and Shaggy.
GRAMMY® American Roots Music: featuring artists such as the Civil Wars, Emmylou Harris, Keb' Mo', and Ricky Skaggs.
GRAMMY® Classical: featuringartists such as those from the London Philharmonic Orchestra and Metropolitan Opera, Paul Ruders, and Yo-Yo Ma.
GRAMMY® Comedy: featuringartists such asLewis Black, Louis C.K., Flight Of The Conchords, and "Weird Al" Yankovic.
You can find the exclusive video content here! Which ones are you most excited to watch? And while you're at it, remember to check out Wikia's Grammy Countdown!
Ad blocker interference detected!
Wikia is a free-to-use site that makes money from advertising. We have a modified experience for viewers using ad blockers

Wikia is not accessible if you've made further modifications. Remove the custom ad blocker rule(s) and the page will load as expected.