Go Adele!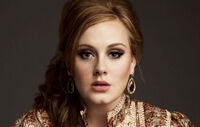 Adele has officially passed Rihanna's We Found Love on the Hot 100 list with her single, Set Fire To The Rain.
Although Rihanna had the #1 spot for quite a while, it's time for Adele to take that place instead. But this isn't her first time at the top of teh list--Rolling In The Deep, not surprisingly, topped the charts for seven weeks last year.
So, are you happy for Adele or do you think We Found Love should still be on top? Comment below and tell us what you think!
Source: music-mix-ew.com