Famous R&B singer Etta James passed away this morning from complications from leukemia at age 73.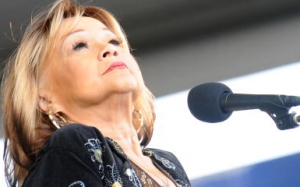 Etta James was born in 1938, and is most famous for her 1961 hit, "At Last", which thrust her into the world of fame and music. She struggled with heroin addiction for many years of her life and suffered from leukemia, Hepatitis C and dementia toward the end of her life. Her album, The Dreamer, was released in November of 2011 and it would be her last album.
James was inducted into the Rock n' Roll Hall of Fame in 1993 and has received six Grammy awards over the course of her life. She is survived by her husband two sons, and the world of music will miss her greatly.

Source: thewrap.com
Ad blocker interference detected!
Wikia is a free-to-use site that makes money from advertising. We have a modified experience for viewers using ad blockers

Wikia is not accessible if you've made further modifications. Remove the custom ad blocker rule(s) and the page will load as expected.