It's unlikely that Taylor Swift will ever become well-known for beat boxing or rapping, but kudos for her, for giving it a try!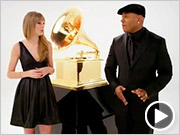 In this clip, she beat boxes with LL Cool J to promote the 2012 Grammies. Unusual for her, but interesting nonetheless--and it's cool to see her try something new! What are your thoughts? Is she better off sticking to singing, or is it cute?
Source: music-mix-ew.com
Ad blocker interference detected!
Wikia is a free-to-use site that makes money from advertising. We have a modified experience for viewers using ad blockers

Wikia is not accessible if you've made further modifications. Remove the custom ad blocker rule(s) and the page will load as expected.