Biggie once rhymed, "What's beef? Beef is when you need two gats to go to sleep. Beef is when your moms ain't safe up in the streets."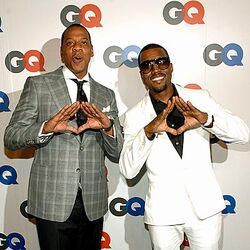 Oh, how times have changed since that golden era of hip-hop. For the top dogs of the rap game these days, beef is apparently when you receive a lawsuit from a 75-year-old man. It has been reported that Jay-Z and Kanye West are being sued by Syl Johnson, a blues musician who is not happy that the duo sampled one of his songs without permission, for their Grammy-nominated album Watch the Throne [1]. Ball so hard, huh guys?
The collaboration between the two self-claimed Kings of Rap has been nominated for Best Recording Package, while the single
Otis
has been nominated for Best Rap Song and Best Rap Performance. A song from the album called
The Joy
contains the sample in question, as Syl Johnson claims that Kanye West knowingly and willfully misappropriated the music after being rejected a year ago when he tried to use the same sample (from Johnson's song
Different Strokes
) for his album
My Beautiful Dark Twisted Fantasy
.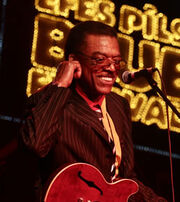 However, it's fair to note that Syl Johnson only began his comeback in music after discovering, in 1992, that the same song in question,
Different Strokes
, had been sampled by various rappers, including
Wu-Tang Clan
,
Public Enemy
,
Kool G Rap
,
Hammer
, and the
Geto Boys
.
[2]
So Kanye stole some music after being denied, but Syl has had decades of sampled grief bottled up, and he's finally taking it out on the richest guys.
Considering that there have been some lame moves by both parties, I propose a perfect solution to end this beef. As it turns out, Syl Johnson has also been nominated for a couple Grammy Awards this year. I mean, Best Liner Notes and Best Historical Album are better than nothing. So, despite the fact that Jay-Z and Kanye intend on fighting the lawsuit (and will probably do well, considering their affluence), I think the final Grammy count should be the real deciding factor in this particular "beef" scenario.
Wow, I've actually come up with a reason to pay attention to who wins Grammys. It's a Christmas miracle!
Listen to The Joy and Different Strokes
Ad blocker interference detected!
Wikia is a free-to-use site that makes money from advertising. We have a modified experience for viewers using ad blockers

Wikia is not accessible if you've made further modifications. Remove the custom ad blocker rule(s) and the page will load as expected.