Entertainment Earth is releasing a series of KISS themed coasters as a San Diego Comic-Con convention exclusive. Here is an excerpt from their press release:
Each exciting coaster features unique album artwork from one of the world's most exceptional bands. Includes art from KISS, Hotter Than Hell, Dressed to Kill, Alive, Destroyer, Rock and Roll Over, Love Gun, Alive II, Double Platinum, the solo albums of Gene Simmons, Paul Stanley, Ace Frehley and Peter Criss, Dynasty, Unmasked, Music from the Elder, Creatures of the Night, and one coaster with the KISS Army logo. The coasters are crafted from wood with cork backing and measure approximately 3 1/2-inches square.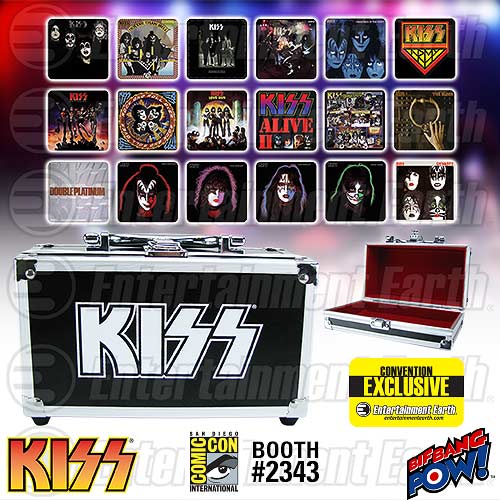 The set comes in a mini guitar case and will be available at Entertainment Earth's booth #2343 throughout SDCC. You can pre-order the set of 18 KISS themed coasters here
---
---
Ad blocker interference detected!
Wikia is a free-to-use site that makes money from advertising. We have a modified experience for viewers using ad blockers

Wikia is not accessible if you've made further modifications. Remove the custom ad blocker rule(s) and the page will load as expected.