As the holidays draw closer and the jingles fill the air, we here at Wikia celebrate as well with our very own "12 Days of Guilt"! Every day, starting today, we will showcase 12 of the most embarrassing, catchiest, most famous, or most entertaining Guilty Pleasure songs by theme. Today's theme is: The 90's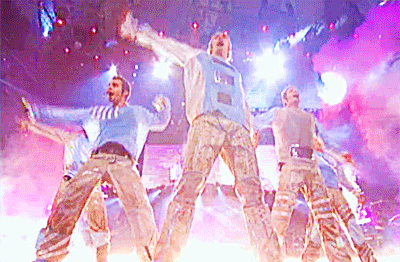 Ah, the 90's. A time of grunge, boy band battles, and original Game Boy goodness. It was a simpler time where gel pens, bubble furniture, and Tamagotchis you had to constantly check on ran amok. These things aside, what made the 90's great was the cascade of music that still resonates in our hearts, making us feel better about the fact that we never truly let go of slap bracelets. Don't hesitate like Cory Matthews did when proposing; click the link to view and vote for the Top 12 Guilty Pleasure 90's Songs:
1. Nirvana  - "Smells Like Teen Spirit"
2. Backstreet Boys - "I Want It That Way"
5. R.E.M - "Losing My Religion"
6. Destiny's Child - "Say My Name"
8. *NSYNC - "Tearin' Up My Heart"
9. Christina Aguilera  - "Genie In a Bottle"
Don't agree? Think there are better 90's songs to swing your slinky at? Let us know in the comments below!
More Guilty Pleasures

Ad blocker interference detected!
Wikia is a free-to-use site that makes money from advertising. We have a modified experience for viewers using ad blockers

Wikia is not accessible if you've made further modifications. Remove the custom ad blocker rule(s) and the page will load as expected.