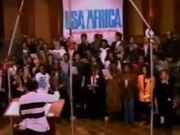 We Are The World features the recording of the song by the supergroup of popular musicians billed as USA for Africa. The charity single was intended to raise funds to help famine-relief efforts in Ethiopia as food shortages had intensified during a drought in 1984-1985.
A 25th re-recording for the victims of the 2010 Haitian earthquake featured current musical artists and footage of Michael Jackson from the original version.
Ad blocker interference detected!
Wikia is a free-to-use site that makes money from advertising. We have a modified experience for viewers using ad blockers

Wikia is not accessible if you've made further modifications. Remove the custom ad blocker rule(s) and the page will load as expected.