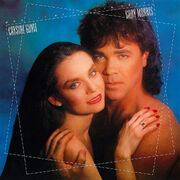 What If We Fall in Love is the only duet album by Crystal Gayle. All songs performed by both Crystal Gayle and Gary Morris.
"Another World" became the theme song of NBC daytime soap opera of the same name; Crystal appeared in a few shows of the series around this time as herself, almost becoming a victim of the serial killer plot airing at the time. "Makin' Up for Lost Time" had been previously featured in the night time drama "Dallas".
Track listing
Edit
"Another World" (John Leffer, Ralph Schucket) – 3:35
"What If We Fall in Love" (Jan Buckingham) – 4:00
"Who's Going to Love You Like Me" (Pat Bunch, Mary Ann Kennedy, Pam Rose) – 4:08
"Love Won't Let Me Quit" (Austin Roberts, Jack Keller, Beckie Foster) – 3:25
"One More Try for Love" (Robert Byrne, Brandom Barnes) – 5:25
"Makin' Up for Lost Time (The Dallas Lovers' Song)" (Gary Morris, Dave Loggins) – 3:28
"There's No Love Like Our Love" (Steve Dorff, Eric Kaz) – 4:04
"All of This and More" (Foster, Jennifer Kimball, Greg Prestopino) – 3:36
"Wanna Give My Love" (Dana Merino) – 3:09
"Reminisce" (Bunch, Kennedy, Rose) – 7:00
Ad blocker interference detected!
Wikia is a free-to-use site that makes money from advertising. We have a modified experience for viewers using ad blockers

Wikia is not accessible if you've made further modifications. Remove the custom ad blocker rule(s) and the page will load as expected.