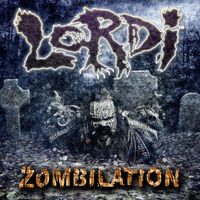 Zombilation - The Greatest Cuts is the 2nd of Lordi's compilations, the first one being The Monster Show.
Track listing
Edit
Bringing Back The Balls To Rock
Forsaken Fashion Dolls
Supermonstars (The Anthem Of The Phantoms)
The Children Of The Night
Rock The Hell Outta You
Pet The Destroyer
Monster Monster
Limited edition CD
Edit
The limited edition special edition includes a second disk of them live in Stockholm. Here is the track listing:
Bringing Back The Balls To Rock
Get Heavy
Who's Your Daddy
Not The Nicest Guy
Pet The Destroyer
Rock The Hell Outta You
Blood Red Sandman
The Kids Who Wanna Play With The Dead
They Only Come Out At Night
Would You Love A Monsterman
Hard Rock Hallelujah
Included on the same disk are some rare non-album songs:
Mr. Killjoy
Evilove
Don't Let My Mother Know
Pyromite
To Hell With Pop
Limited edition DVD
Edit
Also included in the limited edition is a DVD of their live performances at Market Square Massacre, some "Hello Athens" doumentaries, and the following music videos:
Would You Love A Monsterman(2006)
Who's Your Daddy
Hard Rock Hallelujah
Blood Red Sandman
Devil Is A Loser
Ad blocker interference detected!
Wikia is a free-to-use site that makes money from advertising. We have a modified experience for viewers using ad blockers

Wikia is not accessible if you've made further modifications. Remove the custom ad blocker rule(s) and the page will load as expected.